Big Bear Lake is located in the San Bernardino mountains of California about 90 miles east of Los Angeles in southern California. The area is a full four season resort which offers great skiing in the winter. Back country 4×4 trails offer a variety of opportunities from the daily driver to a purpose built 4×4. Hiking, biking, boating and camping are great activities in the spring, summer and fall.
Located at 7000 ft above sea level, 4×4 trails offer a nice opportunity to get above the heat of the surrounding areas low land areas of the Los Angeles basin. Big Bear has a huge 4×4 following, and a wide variety of back roads, campsites and jeep trails offer something for everyone.
The John Bull Trail will test any 4×4 while Skyline drive offers scenic views for almost any vehicle in a lazy trail which climbs above and behind the Snow Summit Ski Resort. Lake Arrowhead, Green Valley Lake and Holcomb Valley all offer scenic drives and a rich history.
Holcomb Valley is about five miles north of the Lake and the site of the most gold mined in Southern California. Gold was discovered in the area by William F. Holcomb in 1860. There are several mine sites, structures and various ruin that offer an opportunity to explore.
Due to recent fires in the area the landscape is undergoing a rejuvenation. Old growth forest were burnt, but new life is literally growing up from the ashes. Although not beautiful in the traditional way, the burn can be a wonderful learning experience and opportunity to experience nature fighting back to recover from destruction.
Trail Map
Big Bear Trails
Camp Osito Road is a back country 4x4 trail which connects Knickerbocker Road to Skyline Drive in Big Bear, California. The seldom travelled road is…

Clarks Grade 1N54 Trail Head dropping down into Barton Flats from Skyline Drive. Clarks Grade 1N54 is a steep and scenic descent from the top…

Cleghorn located outside of Big Bear, CA Cleghorn Ridge is a 4x4 trail which leads from the I-15 at the Cleghorn exit to Silverlake State…

Also known as the Deep Creek Trail, Dish Pan Springs offers a short but hardcore trail in Big Bear. Dishpan springs trail contains large boulders…

The Gold Fever Off Road Trail is a back country drive by some historical sites in Holcomb Valley, in the San Bernardino Mountains. The trail…

Gold Mountain Trail Head The Gold Mountain 3N69 Trail can be found in the San Bernardino National Forest near Big Bear Lake. The favored direction…

Holcomb Valley Road 3N14 takes you through scenic Holcomb Valley Holcomb Valley Road 3N14, is a main artery in the road system above and behind…

Jacoby Canyon 3N61 Trail head Jacoby Canyon 3N61 is a trail which can be found in the San Bernardino National Forest near Big Bear Lake.…

The John Bull Trail 3N10 has the solid reputation as one of the toughest and most challenging trails in the Big Bear mountains of San Bernardino…

Knickerbocker Road - 2N08 is a steep and beautiful drive from near the town of Big Bear, California to Skyline Drive. The route is a…

Skyline Drive 2N10 offers higher elevation views of Big Bear, California Skyline Drive 2N10 is the unofficial name for USFS Road 2N10 that begins just…

Snow Slide Trail (2N13) connects Green Valley Lake to Fawnskin, in San Bernardino, California. The Green Valley Lake trail head is located by the campground…

Sugarpine Mountain trail is moderately difficult and starts at the edge of San Bernardino and finishes in the Silverlake State Park. The trail is designated…

Willow Creek road is an easy gentle ride located near Big Bear, California. The easy trail runs from Hooks Creek Road to Highway 173 and…

Big Bear Ghost Towns
Articles published by Destination 4x4 which are tagged as ghost towns which are known to operate a California Historic Newspapers
The cabin at the Belleville California townsite is not original but moved to the location to represent the style of the structures of the town.…

Doble California is a gold mining town and ghost town which is located off the western shore of Lake Baldwin in San Bernardino, California. The…

Big Bear Campgrounds
Articles published by Destination 4x4 which are tagged as ghost towns which are known to operate a California Historic Newspapers
Hanna Flats Campground is an established campground located on Coxey Truck Trail - 3N14 in Big Bear, San Bernardino California. The campground features eighty five…

Holcomb Valley Campground is located in a lush pine forest in Holcomb Valley, San Bernardino Mountains, California Holcomb Valley Campground features 19 single-family campsites and…

Holcomb Valley Ranch is a historic region located in the San Bernardino Mountains of Southern California, United States. It has a rich history that dates…

Serrano Campground is a campground with 108 campsites located near Big Bear Lake in San Bernardino, California. the campground is located just across the highway…

South Shore Trail Network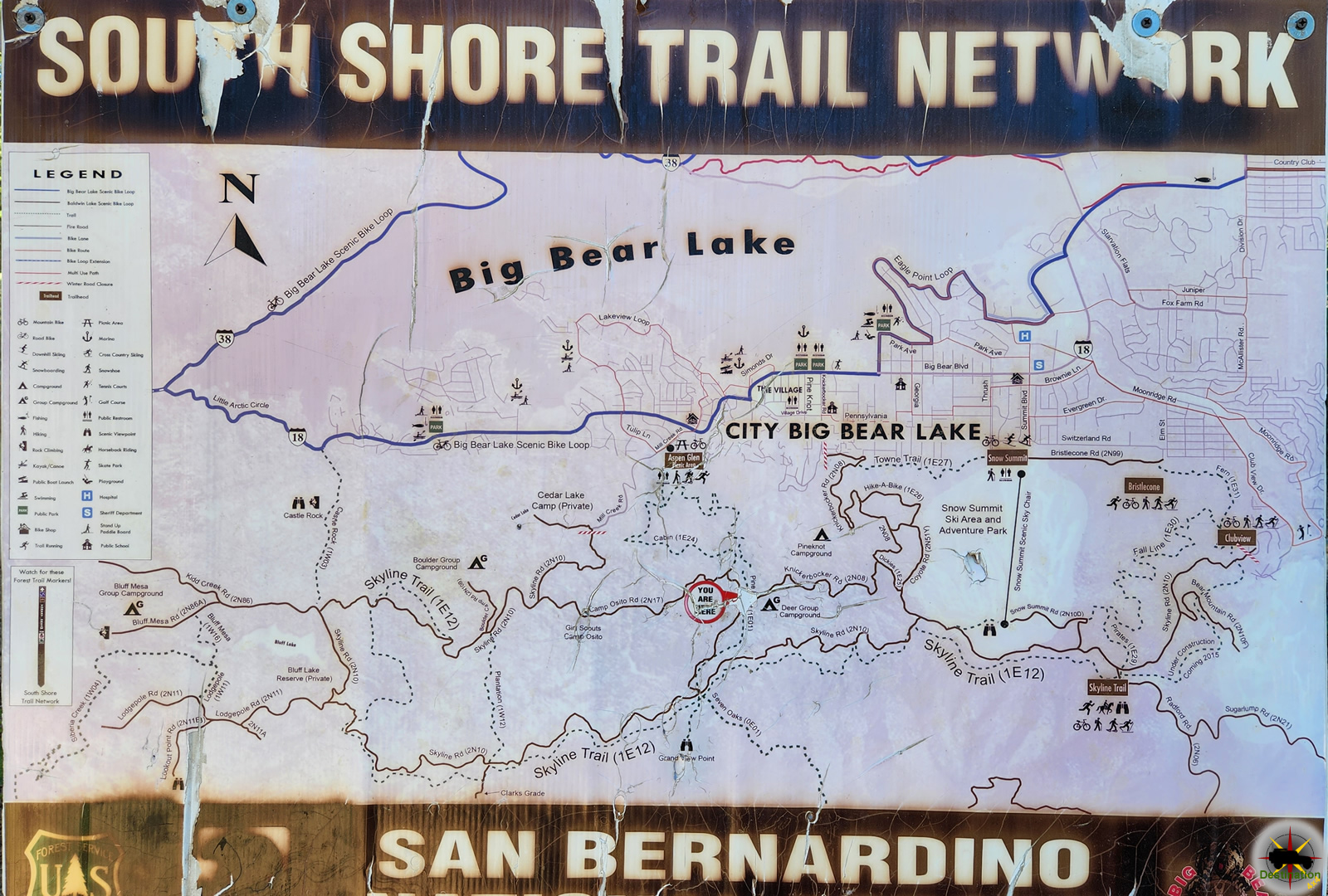 Camp Osito Road is a back country 4x4 trail which connects Knickerbocker Road to Skyline Drive in Big Bear, California. The seldom travelled road is…

Clarks Grade 1N54 Trail Head dropping down into Barton Flats from Skyline Drive. Clarks Grade 1N54 is a steep and scenic descent from the top…

Knickerbocker Road - 2N08 is a steep and beautiful drive from near the town of Big Bear, California to Skyline Drive. The route is a…

Skyline Drive 2N10 offers higher elevation views of Big Bear, California Skyline Drive 2N10 is the unofficial name for USFS Road 2N10 that begins just…

Big Bear Points of Interest
The Arrastres is a point of interest found along the Gold Fever Off Road Trail in Holcomb Valley in the San Bernardino Mountains. The remains…

The cabin at the Belleville California townsite is not original but moved to the location to represent the style of the structures of the town.…

Doble California is a gold mining town and ghost town which is located off the western shore of Lake Baldwin in San Bernardino, California. The…

Located about 10.8 miles from the start of the Gold Fever Off Road Trail, the Gold Mountain mine is an abandoned mine site which overlooks…

The Hangman's Tree is a point of interest found along the Gold Fever Off Road Trail in Holcomb Valley in the San Bernardino Mountains. The…

Stop number four along the Gold Fever Off Road Trail is Holcomb Valley, is Jonathon Tibbets Grasshopper Quartz Mill. The Gold Fever Off Road Trail…

Located at stop 3 along the Gold Fever Off Road trail is the supposed location of Two Gun Bill's Saloon in Holcomb Valley, California. The…

Charles Wilbur's Grave is a point of interest located in Holcomb Valley near the Holcomb Valley Campground, San Bernardino, California. Charles Wilbur's Grave located in…

References